Our Vision
Our main goal is to provide the absolute best experience to our customers and we will achieve that by focusing on quality, consistency, and peak flavour & taste to ensure an enjoyable, yet adventurous experience for our customers. 
Ordered this last week and surprisingly I'm quite impressed with the smooth taste and rich aromatics. I usually order from another brand but thought I'd try something new seeing others reviews. Will definitely be ordering again considering the exceptional pricing!
I seriously enjoy this coffee. It's just so damn good. I don't drink it every day, but the days I do enjoy it are special.

I use both cream and sugar in the raw when I have coffee.

If you're into medium roasts, this coffee will probably impress you.
I love this coffee. It has a clean flavour with no aftertaste. It is my go to for coffee now.
Very impressed. Excellent flavor. More interesting than most coffee sold online.
Just tried it out and and I shoud say I am very impressed, The bean are very fresh and as it is advertised very smooth and velvety. I also made for my friends and family to get more feedback for myself. the result is: "everyone loved it". Looking to buy more once this pack is finished.
Crafting Specialty Coffee
We believe every cup you drink must be a exquisite representation of the region. To delight our customers we work directly with farmers that share our commitment and ambition in creating a unique experience through their craft.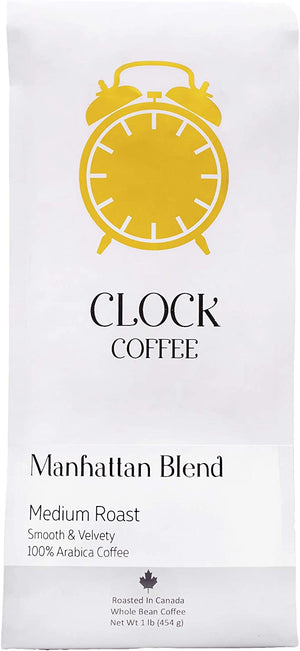 Clock Coffee, Manhattan Blend, Medium Roast, Whole Bean, 1 lb (454g), 100% Arabica Coffee
Sale price Price $13.99 Regular price Unit price / per